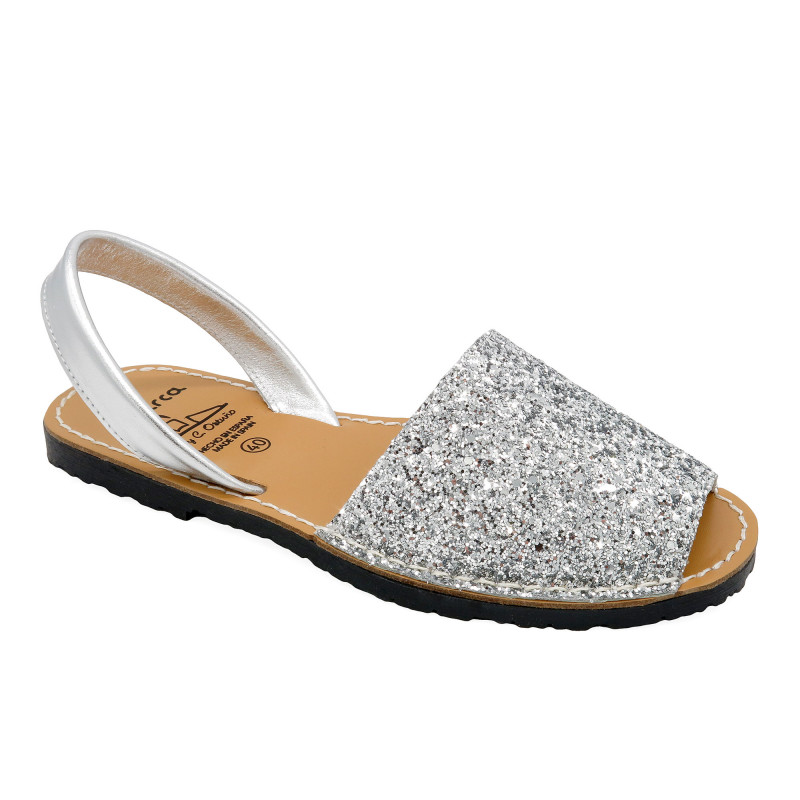  
Avarca Women's Flat Sandals silver Glitter Leather Summer Shoes
No sales tax as of § 19 UStG
Delivery time: 1-5 working days (DE) 3-12 working days (EU) 10-35 working days (world)
Women's flat sandals Avarca Menorquina summer shoes with glitter - Made in Spain
Privacy Policy
Delivery policy
Right of withdrawal
Beautiful ladies sandals summer shoes with glitter and leather back strap . Made in Spain - 100% quality and style.
These original Spanish Avarca Menorquina summer sandals are very popular in Spain and the Spanish islands of Menorca, Mallorca and Ibiza. They can be worn as comfortable city sandals or nice beach shoes on vacation. 
Brand: Avarca
Model: 275 Avarca Menorquina
Color: glitter silver
Material: Glitter & Leather - Glitter upper & back strap from soft smooth leather
Lining: without lining
Insole: Foot-friendly bonded leather for comfortable wearing, especially on hot summer days
Sole: grippy and soft springy rubber sole with a small heel
Closure: slip-on / heel strap
Size can be small (narrow span) - measure your feet as recommended in the size table (see product images)
Made in Spain
In our online store you can buy online leather women's flat sandals Avarсa Menorquina at competitive prices.
Customers who bought this product also bought: